Question: What do you need to arrive, survive and then thrive as a plumber or plumbing business today? You've got the skills. You've got the training and credentials. You've collected some experience, the know-how, and bought all the vehicles and equipment you need – and you're ready to start filling up your appointment book with clients.
What's missing? Well, to get those plumbing leads that turn into satisfied customers, spread the word and come back time and time again, you're going need to utilise the best plumber marketing ideas. Not just to get the phone ringing, but to do so with efficient strategies that generate plumbing leads consistently and at a sustainable cost.
If you don't get your name out there in the right places your prospective clients are looking, that appointment book is simply not going to fill up. But here's the brilliant news. As we say hello to 2020 and beyond, there have never been more effective ways to supercharge your plumbing leads with the best modern, digital and extremely powerful plumber marketing ideas.
From a plumber marketing company that gets results, we are going to revel the top plumbing marketing ideas that will help you stand out from the bustling crowd and become *the* local plumber that everyone is looking for.
This guide is packed full of information, so we've broken it down into the following key sections.
Plumbing Leads: The Customer Journey
Here's the steps a customer typically takes in the digital age before making a booking with a plumbing company, illustrated with an example. In this scenario a homeowner (let's call her Sarah) wakes to find that their shower is cold with no hot water.
Sarah reaches for her phone, Googles "hot water not working" and reads a blog post about what to do.
After following the tips and ruling out simple problems like a tripped fuse, she decides to call a local plumber.
This time Sarah Googles "best plumber near me" and see's the same plumbing company that wrote the blog post.
Sarah reviews the companies reputation online. Checking their Google reviews, website for trust factors and Facebook page for activity.
After deciding they seem to be a credible local business, she makes a call for a booking.
The customers Journey doesn't stop there for smart plumber marketing. What happens next?
The plumbing company arrives on time, provides great customer service and completes the repair.
Sarah receives a follow up message asking what she thought of the service and asking for an online review.
A month later a friend of Sarah's tells her they have plumbing problems and Sarah tells them about her experience
Her friend Google's the company name and makes a booking trusting Sarah's recommendation
Six months later Sarah see's a newsletter about tap replacement and decides an update is a great idea to freshen her kitchen
She clicks through to the company website and calls again, this time as a repeat customer.
There are many journeys a customer like Sarah can take, but essentially its:
Awareness – Discovering they have a need
Research – Investigating what to do about it
Purchase – Finding someone they trust for the job
Brand champion – Satisfied customers come back and refer others
So, being in front of the customer at each of these stages you can not only generate great plumbing leads but turn one into three! Smart plumber marketing uses a mix of strategies to ensure your business appears at each step of the marketing funnel for maximum leads. So hear they are…
Top Plumber Marketing Ideas
1. A mobile-friendly website
Your business website is the number one sales guy on your team. If your website isn't up to scratch the hard work put in to drive traffic is wasted when they don't convert into leads. Way over half of all searches for local plumbers are now done on a mobile, meaning there's no excuse, you simply must have a plumber website fully optimised for mobile devices.
2. Local SEO
Search engine optimisation (SEO) is crucial for any business because the goal is to get your business naturally ranking above all of your competitors. But in a highly competitive industry like plumbing, local SEO for plumbers is doubly important, because it means you'll be found specifically by the people in your local area.
Expert Plumber SEO Campaigns with the Best Plumbers Club

There are no magic bullets in SEO as others would have you believe. With an intelligent, complete approach and local focus our plumber SEO campaigns deliver leads all day 7 days a week.

Learn more about SEO for plumbers or get in touch for a customised campaign for your business.
3. Google My Business
We'll let you in on a little secret when it comes to getting high up in those crucial Google rankings – it's called Google My Business (GMB). Especially for those all-important local searches, having a fully optimised GMB page, which is based on Google Maps, will put you ahead of the game. When Google see's a search keyword with local intent ("plumbers Gold Coast" for example) you should appear in the local map pack as well as the regular search results.
4. Plumber Advertising
Thinking of putting an ad in the paper? On a billboard? It will all work, but by far the most successful AND cost-effective paid plumber advertising is pay per click (PPC). PPC means that whether your crucial SEO is up to scratch or not, you'll still be on page 1 on those search engines. The beauty of plumber advertising is you can turn it on and the phone starts ringing. This comes at a higher cost per lead that a long term SEO strategy, so there are trade offs.
The most popular plumber advertising channels in 2020 are:
Google Ads
Bing Ads
Facebook Ads
5. Buy Plumbing Leads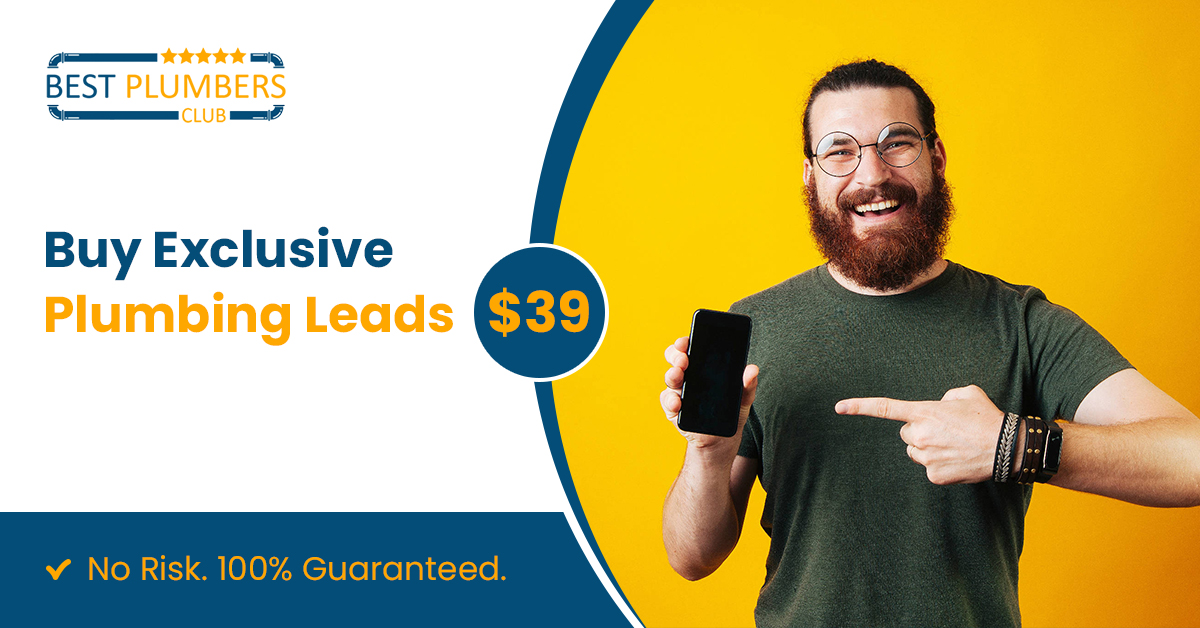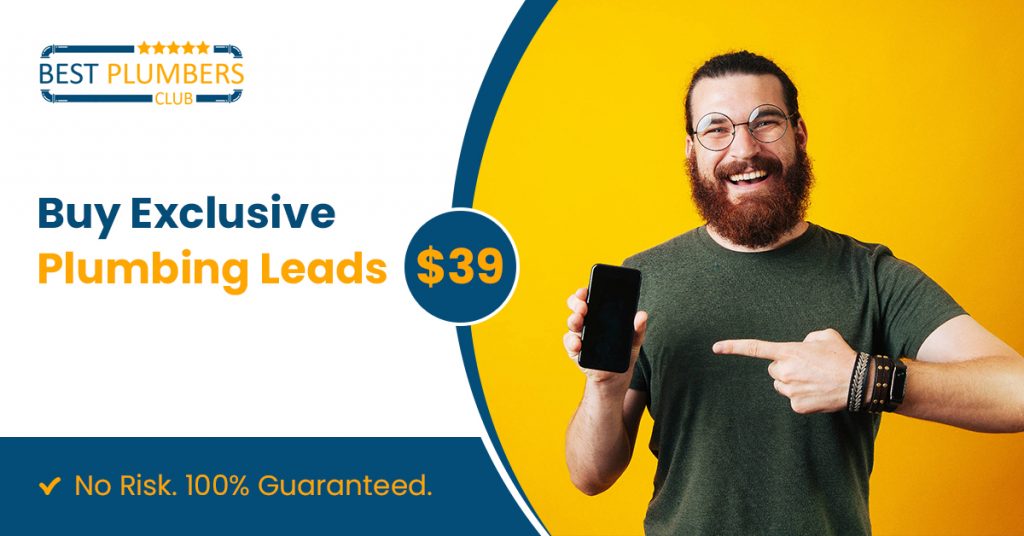 There are a few websites where you can buy plumbing leads, but often they are a race to the bottom in terms of pricing. Why? These sites typically offer "3 quotes" for customers and sell the lead three times or more. This appeals to people hunting for the lowest price.
Exclusive Plumbing Leads from the Best Plumbers Club.

By applying what we've learned from dozens of local SEO campaigns over a decade, we can now deliver quality exclusive leads in your region directly from the Best Plumbers Club website.

By focusing on trust factors we weed out the price shoppers and send leads directly to your inbox. That's exclusive plumbing leads for your business…

Limited regions are remaining and there is an approval process for membership.
6. Email Marketing
It may seem a little out of date in 2020, but email marketing remains highly effective. And, if you keep and curate that marketing list well enough, the people receiving your emails – your clients – won't even mind. It's the perfect way to keep in touch and show you care about your clients with updates, tips and tricks, reminders and newsletters.
7. Social Media
As we mentioned above, being on social media – we're talking Facebook, Twitter, LinkedIn, YouTube, Instagram and others – is a no-brainer when it comes to plumber marketing ideas you cannot ignore. Everyone but everyone is on social media, so that means expanding the reach of your plumbing company and the power of your marketing efforts.
8. Online Reviews
Of course, you want your clients to like you. But when considering your plumber advertising, there's nothing more valuable than having a range of positive online reviews on the net. Why's that? Research has shown that a staggering 90% of those choosing a business read an online review first.
9. Blogging
As we saw in Sarah's example, high ranking, quality blog content that helps people is critical to appearing early in the customer journey. This type of content just keeps giving getting you in front of people regularly without the hard sell. Not just in search results but feeding it out to social media and email marketing lists.
10. Video
Especially on your social media channels, website and blog, a successful plumber marketing campaign are going to need content that attracts eyes, clicks and brains. And by far the most effective content in 2020 is video. You may need the help of a plumber marketing company, but video really is the way to boost engagement, your brand, and stand out from the crowd.
11. Local Directories
But don't forget the continuing effectiveness of local online directories, like the Yellow Pages and Gumtree. These listings may also show up in search engine results, and there are options to promote those ads on-site too.
Looking for a smart marketing investment to really grow your plumbing business? You're in luck, our focus is generating plumbing leads. We get proven results – just ask and we'll share some examples of massive traffic growth!
Promoting your business and generating plumbing leads may be challenging, but in our exciting, fast-moving and increasingly digital times, it's not only possible – it's crucial! These plumber marketing idea expertly applied by the Best Plumbers team will supercharge your plumbing business just like we've done for others like you. Get in touch today by sending us a message for a free consultation.
Get a free plumbing marketing consultation